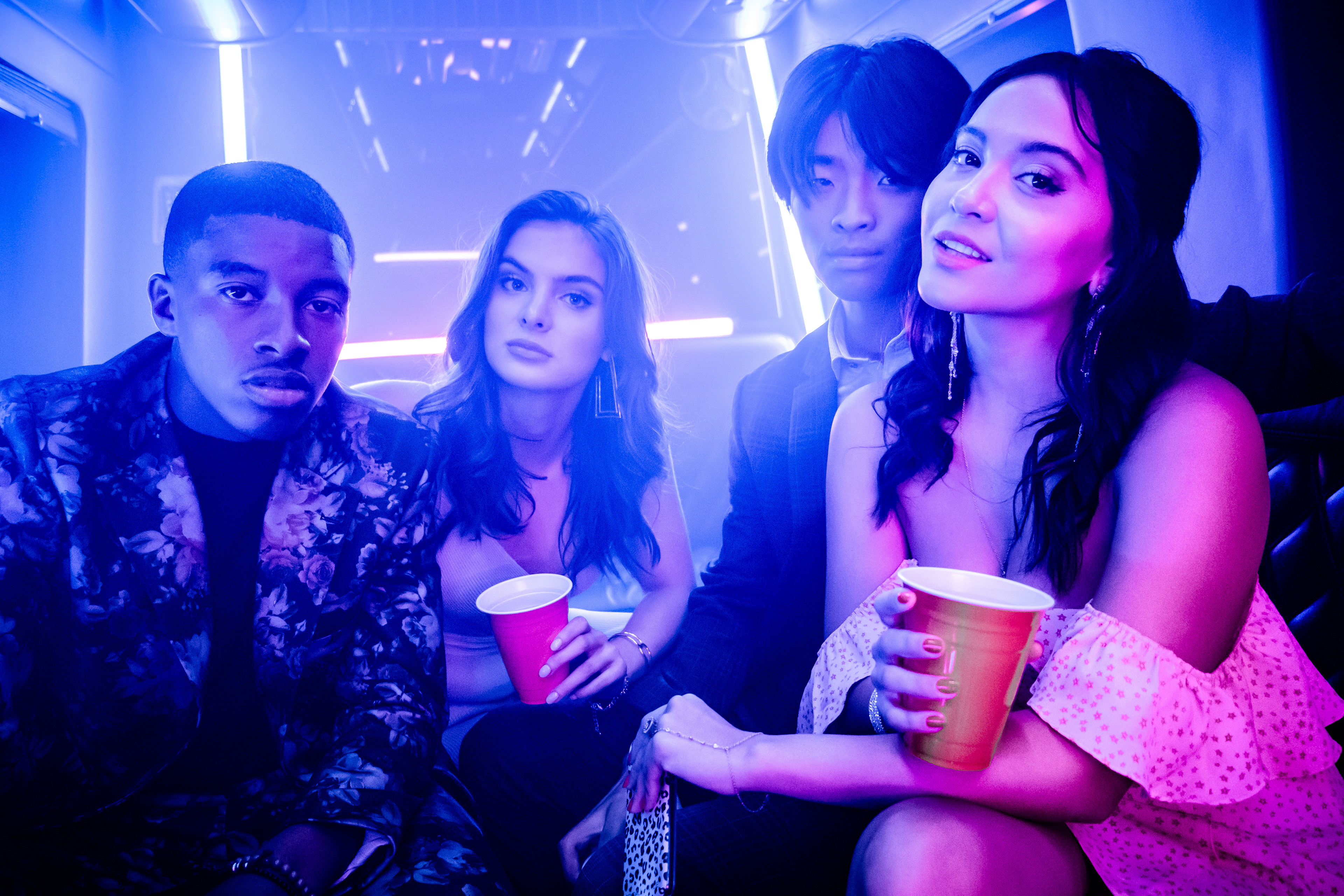 What happens when you pair your bingeing obsession with your Snapchat obsession? "Players"—a new Snap Original show that's sure to pull you in. 
The series centers on Nash Brooks (Micah Moore), an up-and-coming basketball talent who's following in the footsteps of his NBA star dad, Oscar Brooks, as they move from Indiana to Los Angeles after Oscar is traded. 
The show stars leading ladies Brighton Sharbino (The Walking Dead) and Stella Hudgens (younger sis of HSM star Vanessa Hudgens) as Jojo and Niki, respectively. Girls' Life spoke with the girls exclusively about their characters, what it was like on set, and more—read on for the info! 
These interviews have been edited and condensed for clarity.
Girls' Life: Tell me a little bit about your characters in "Players."
Stella Hudgens: [Niki's] a sassy young woman who speaks her mind and doesn't like anyone getting in the way of what she wants. 
Brighton Sharbino: My character in "Players" is just very human. A lot of the time, I feel like the lead character, especially if she's a love interest, just seems so perfect. And I feel like Jojo is just very human and she's made mistakes. She's very relatable!
GL: Are you similar to your character IRL?
BS: I feel like I would probably handle a lot of situations differently than Jojo did, but she has a lot of passion for everything in her life and I can relate to that. She really cares about people.
GL: What stood out to you about the show? Why is it special?
BS: It caught my eye because it was one of the scripts I read the fastest out of everything. I've never read a script that quick! It was really entertaining for me, so that was one thing I thought was very special. And then, when we get into the logistics of it, even the way it was shot was really special because we shot it all vertically for Snapchat!
GL: What was your fave on-set moment from "Players"?
SH: Every day was a great day on set because the cast and crew were really lovely. And whether the cameras were on or off, we were always having a blast.
BS: There's a lot, but I really think it was just hanging out with them. Honestly, just talking with the cast! We had really funny conversations. And I really liked it when I was filming all the scenes with Stella sitting on the bleachers, we were just cracking each other up during our downtime. 
GL: Basketball plays a key role in the plot of "Players." Are you a big basketball fan yourself, or did you have to learn as you went through production?
SH: I played basketball in middle school and I love being active and playing sports. I'm not the biggest basketball fan myself (although I'll always root for The Lakers) but the sport definitely is wildly exhilarating to watch whether you're watching in-person or on a screen!
BS: I definitely did not know as much about basketball as I do now. I really like basketball, but I didn't really know too much about it and I never got into it like my character Jojo does.
GL: What advice would you give to your fans about pursuing their dreams?
BS: I feel like it's really about commitment. If you want to do anything in life, you just have to commit to it. I think that there's a lot of new opportunities opening up, and you just have to go after your dreams. And I hope that anybody who watches "Players" or reads this is doing what they want to do in life; life is too short to do something you don't want to!
Convinced to give it a shot? Check out the trailer for "Players," starring Stella and Brighton, here:
​​​​​​​