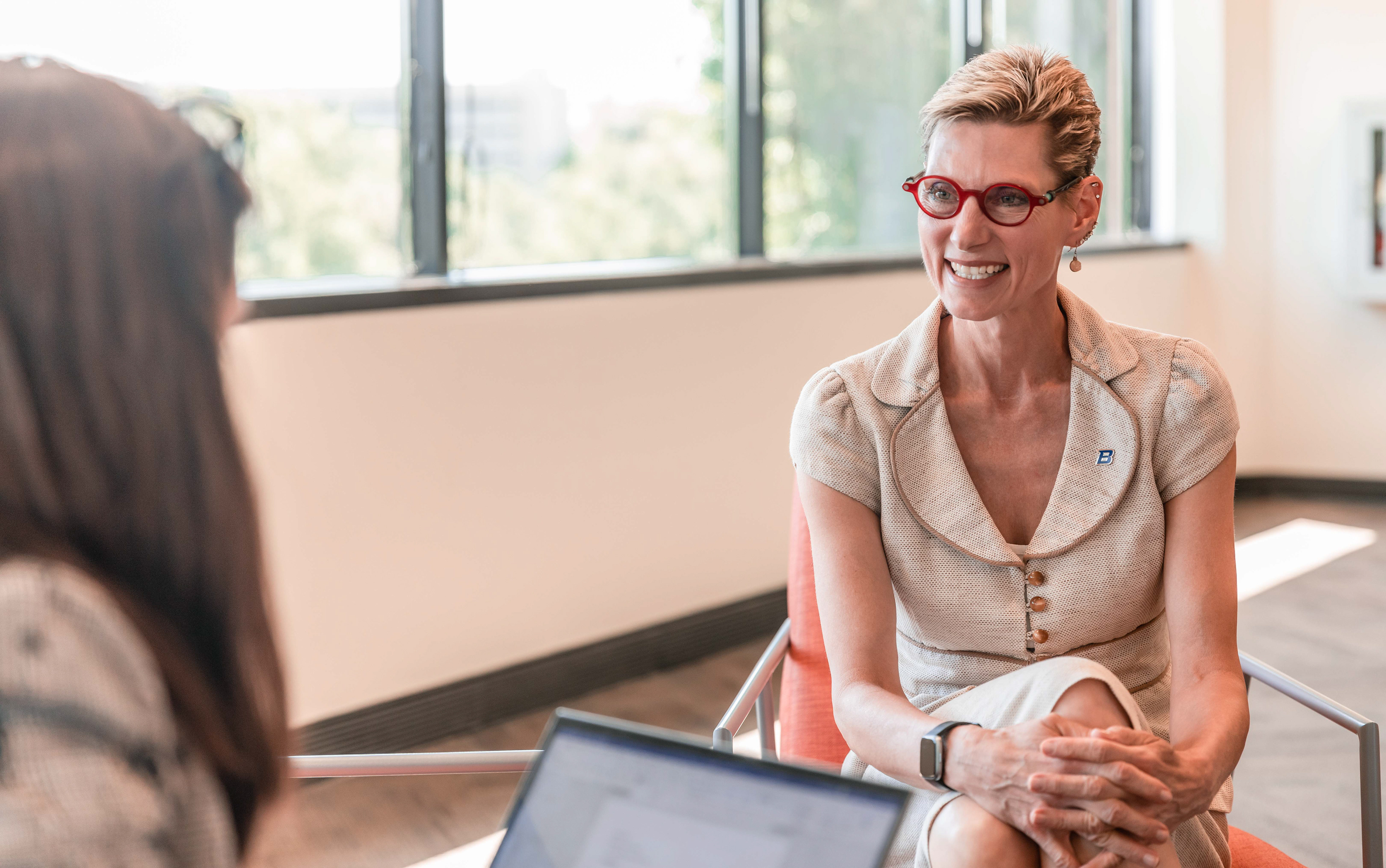 As Marlene Tromp grew up in the 1970s in Green River, Wyo., a town with a population of just over 4,000, Richard Nixon was the President of the United States, and it was rare to conceive of the idea that a woman could take his place. That would all change for Tromp as a young girl when her father told her that she, too, could be the president one day.
"For him to say that to me, made me feel like I didn't have to have a ceiling over my head," Tromp said. "But there were all sorts of options that I could pursue and things that I could do. And that was an incredible gift to me."
Although not exactly the commander-in-chief, Tromp is dedicated to passing that same sentiment down to the thousands of students she is serving as Boise State's first female president.
Although she meets dozens of new individuals on any given day, Tromp appears to place all of her energy and attention into the present moment. Whether speaking with a reporter or a member of the Boise community, Tromp dives into conversation with alertness and concern, and her focus does not go unnoticed by those who work with her.
"I think she's a very honest person, but I think she's also very upfront with wanting to get to know people and understanding what community is and how to bring it together," said ASBSU President Kaleb Smith. "She has a gift in doing that. She's a really easy person to talk to. She seems to really listen and not just hear you, and try to understand what it's like to be in your shoes and really look for diverse perspectives to bring into her decision making."
This pointed way of making connections and decisions may be a result of her self-described devotion to community. Coming from humble beginnings, Dr. Tromp considers being at Boise State much like a homecoming, and intends to serve the university and surrounding community similarly to how she would serve her own at home.
"I really care about the community that I inhabit, the people I work with the community that I serve, because I really think a presidency is a servant leadership position," Tromp said. "I'm serving students, faculty and staff at the university to advance the university, which is to advance the state and the people in the state. So, I really think it's a servant leadership position. And that's humbling."
Combating divisiveness with innovation
Communication is among Tromp's top priorities, particularly when it comes to creating and fostering healthy discourse in the university setting. During her State of the University address, Tromp expressed her concern regarding the divisiveness of the time in which we live, but explained that having diverse narratives that span across political divides could be the next step for the university's pursuit of "meaningful problem-solving."
"I think Boise State is a place that's open to figuring out how to do things in new ways. And that means there's a kind of flexibility in the organization," Tromp said. "Like people are often asking the question, is there a way we can do this better? Is there a way we can be more creative? Is there something that we can do to help the organization thrive, or to help the students thrive or the faculty thrive? So, that openness and that willingness feel incredible to me; some places are more cynical. In some places, people wouldn't even bother talking to each other. And that is an amazing thing. Because when people are willing to talk to each other, that's when you can get things accomplished."
Innovation is becoming synonymous to Boise State, as the U.S. News and World Report ranked the university at #45 in the top 50 most innovative universities across the nation. The definition of innovative is subjective, but Tromp is not alone in believing there is room to strike when it comes to making strides in tough campus conversations.
Leslie Webb, vice president of student affairs, shares the idea that the university could set the standard for diverse and inclusive communication within the Boise State community.
"We could be a national model for how to do this work in these troubling times — where we foster an environment to uplift voices that aren't being heard — and this includes folks who are scared to bring their voices to the surface for fear of being shut down, where we invite the dissonance, we name the messiness and we embrace the discomfort," Webb wrote in an email. "We can do this without causing harm if we carefully and thoughtfully create the conditions."
Rather than allow these political divides to engulf students and faculty who work at Boise State, Webb believes that Tromp's leadership could create a broader sense of community across those lines that exist in the status quo.
"She cares about students and their experiences – in and out of the classroom," Webb said. "She is acutely aware of the pressures and challenges of today, and holds a conviction that we, Boise State, can be a leader in bringing students together to discuss — and even find community within — the difficult ideological, political, cultural issues that continue to divide us. If not us, then who and when?"
Tromp's ability to find that community has already been challenged in her first weeks of presidency, beginning with a letter addressed to her by 28 Republican lawmakers in the Idaho legislature. The letter, written in early July, urged Tromp to roll back diversity and inclusion initiatives originally outlined in an email sent to the Boise State community by Interim President Martin Schimpf.
Schimpf's email included such initiatives as Black and Rainbow Graduation, the annual Powwow and graduate school preparation courses for marginalized and underrepresented students. Tromp, although not the primary driver of these initiatives, said she remains committed to serving all students, especially after better understanding the letter authors' points of contention.
"I care so much about making sure that every single student feels like their voice can be heard on campus. And that means that I don't want any student to be silenced," Tromp said. "When I met with some of the legislators who had signed on to the letter, what some of them told me was they were afraid that what had happened was that there were still some groups were being silenced. And that there was an unfair distribution of benefit in programming."
Rather than an unfair distribution, there may have been confusion surrounding what question Schimpf's email was addressing. Because it was internal communication with the Boise State community, it may have looked to those on the outside as though there were no programs to benefit the students not directly impacted by diversity initiatives, according to Tromp.
These programs, although created for underrepresented students, are designed to benefit the university in its entirety. Francisco Salinas, director of student diversity and inclusion, discussed the importance of recognizing that equity benefits faculty and the student body as a whole.
"One of the things that she mentioned is how we have a responsibility to serve all students; all students really means all students, all kinds of students," Salinas said. "And that means we have to figure out which kinds of students may not be being served in an equitable fashion. And when that's a problem, that's a problem for our service to all students."
Although diversity and inclusion is just one piece of Tromp's packed Boise State agenda, she wants to ensure that students know her dedication lies in the right places to encourage widespread success.
"I want to make sure those students know that I care," Tromp said. "And that I'm committed to making sure that they're able to have access — full access — to their education."