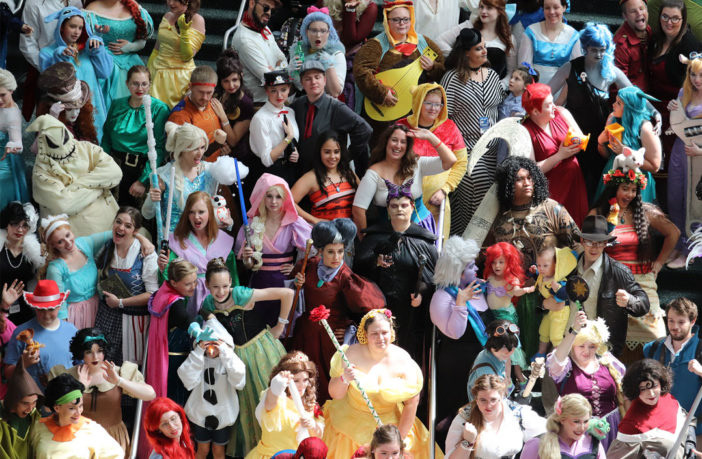 With popular comic convention Wizard World hitting Boise for the first time in July of 2018, buzz around nerd and geek culture is at an all time high. The city has yet to rope in some of pop culture's biggest stars, but it has warmed up Idaho to the possibility of becoming a hub for convention and celebrity lovers alike to thrive.
While the build-up continues in Boise, the past weekend marked the occurrence of Salt Lake City's FanX Comic Convention, the largest per capita comic convention in North America. Hosting artists like Jeff Goldblum of "Jurassic Park" and David Tennant of "Doctor Who," fans have approached Utah from across the country for the opportunity to mingle with their favorite stars and artists.
Interestingly enough, however, not all attendees are solely there to catch an autograph or two. Many individuals, especially those in the collegiate generation, have been touched significantly by geek culture growing up, an impact that has resulted in their attendance at conventions across the nation.
Among the stars on Celebrity Row, FanX's term for their lines of fans waiting for autographs and selfies, was Tom Hopper, recurring actor in "Game of Thrones" and Grant LeClair in "I Feel Pretty." A frequent attendee of comic conventions across the nation, the United Kingdom native finds plenty of time to spend with his American fans, and he hopes the fans are aware of the impact he wishes to make.
"It's tricky because you're never really in control of what your character does, and you hope the choices they are making are able to inspire," Hopper said. "As an actor, I always try to show a good attitude and be a role model [for fans], because being an actor is tough work and not having an ego is really important in this industry."
Although they can't choose the actions of their characters, they do get to choose how they make their mark off screen. Eve Spiekerman, a junior theatre major at Utah Valley University, credits her roots in geek culture to "Doctor Who" star David Tennant.
"The thing that impacted me the most in the geek community was during my first year of college when I hit a severe depressive episode," Spiekerman said. "It was Doctor Who that pulled me out of that. It has that emotional connection in it for me."
Spiekerman was fortunate enough to have the opportunity to meet Tennant this weekend through the photo-op section of the convention. While photo opportunities are often short, no more than a few seconds, the timeframe didn't take any of the excitement away from Spiekerman's experience.
"It's a really fast experience," Spiekerman said. "But David Tennant was my first doctor; he was the doctor who pulled me out."
"Doctor Who" isn't the only fandom that has left an impact on students across the nation. With the Marvel Cinematic Universe on a 10-year film production kick, it's no surprise that Ben Wallace, a sophomore robotics engineering major at Idaho State University, has a different idea about the effects of geek culture, and his relates to his future career.
"I think it was in my electronics class in high school, where we first watched 'Iron Man,'" Wallace said. "It really exploded from there, and now I watch more shows than ever."
While Wallace considers himself part of many fandoms in the realm of geek culture, Marvel remains the most prominent. He is also relatively new to attending conventions, his first being in March of last year, citing his bank account as one of the most impacted parts of him as a result.
"If it wasn't for Stan Lee creating Iron Man, then it wouldn't have created my interest in the fandom and launched my robotics career," Wallace said. "It has [also]impacted my wallet quite a bit, all the money I spend here."
The stakes are high for student finances during convention season, but that hasn't stopped them from making it the biggest event of their year. The stars in attendance generally want to make the events a worthwhile experience for their fans, and Freddie Prinze Jr. of "Scooby-Doo" and "Star Wars: Rebels" is no exception. In a panel for voice actors, Prinze Jr. mentioned that he wants his biggest mark to be left in whichever way his fans see fit, and conventions play a big role.
"I can only give [the fans]the most honest performance that I can give for any role. I need you to connect with something," Prinze Jr. said. "When I sign photos [at conventions], people tell me how much they love my characters, but they each have a different reason why. It's more about your environment, your surroundings and what you grew up loving and hating."
Actors weren't the only people on the vendor floor that had the opportunity to interact with their fans. Artists, such as former Disney and Dreamworks animator Thomas Estrada, were able to better understand how they changed lives, even in the smallest of ways. Starting as an assistant animator, Estrada moved up to work on feature films such as "Road to El Dorado" and "The Emperor's New Groove," animated films that are both easily recognizable by the collegiate generation.
"[Conventions] are just great because a lot of the films I worked on, especially, were not hits during their time, but fans are impacted in all different ways," Estrada said. "Someone might come up to me and say 'I was in the hospital for a long time, and 'Treasure Planet' was the film that got me through it,' and they have all these positive memories that are really neat to me. When you're working on the films, you aren't thinking about that. I love hearing about those impacts on people."
Estrada's success at conventions proves that art can truly make a mark, but the saying goes that a picture is worth a thousand words. This was especially the case for Utah Valley University junior digital cinema major Hayley Lynch, who had a unique and heartfelt experience at her first-ever comic convention.
First taking part in geek culture before her sophomore year of high school, Lynch described "Doctor Who" as her gateway show to fandoms such as "Broadchurch" and "Lord of the Rings." She went on a journey of discovering everything geek, but her most profound experience was in March of 2016 when she attended The FanX Event, a mini-convention previously held in the spring in Salt Lake City.
"I had this incredible experience that month. It was a horrible year, and the month especially was hell. I was really looking forward to getting away for the weekend," Lynch said. "The only thing I had been able to afford was the combo photo op with the cast of 'The Princess Bride.'"
While "The Princess Bride" is considered a cult classic, the film had a different meaning for Lynch's family. Her mom was a "huge nerd" who loved all things "Harry Potter" and read "just about every Stephen King book under the sun."
After losing her mother a series of blood clots when she was only nine years old in December 2006, Lynch said she doesn't have many memories of her now, so she watches the things she loved to feel closer to her. "The Princess Bride" was one of her mother's favorite films, so Lynch brought a framed photo of her to the photo-op with the cast.
"They were really behind, and the cast was late to their big reunion panel. I was really afraid that, because everything was so rushed, I wouldn't have the chance to tell the cast why I was holding a photo of a woman, and I wasn't wrong at first," Lynch said. "Fortunately, there was a glare on my glasses, so they had to retake the photo. Cary [Elwes] stopped me and asked, 'Is that your mom or your sister?' and I told him my mom, and he asked, 'Did you lose her?'"
Lynch said she had to leave the convention early because of her emotional state, but the impact that the cast left was one that will last forever. While not everyone will share a similar experience to Lynch's, that doesn't mean that they can't have a lasting memory of the time they spent at the conventions. Geek culture has a different effect on everyone, and it's important, according to Spiekerman, that no one diminish that effect.
"I think college students need to know that it's okay to be a geek. There's sometimes a culture, being slowly eradicated, that it's not cool to be a geek," Spiekerman said. "The world is changing, and while there's still standards to stick to, it's important that you be yourself and be a geek, and comic conventions really envelop that idea."